Judge Alfred M. Post
, son of
William E. and Sarah Wallace Post,
was born August 10, 1849, in Greenfiel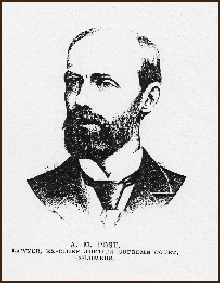 d, Pennsylvania. His father, a minister of the Presbyterian faith, was of English ancestry. He devoted his life to his calling, and died in 1877. Both of his parents were natives of Pennsylvania.

Alfred Post, at an early age, moved with his parents to Cumberland, Ohio and later attended the public schools in Hubbardsville and Athens, Ohio. In 1868, he graduated from the law school of the University of Ohio. He then moved to Bloomfield, Iowa, to join his parents who established a home there in 1862.

While waiting to be admitted to the Bar, Alfred M. Post taught school. After his admittance to the Iowa State Bar, in 1870, he opened a law office at Leon, Decatur County, Iowa, where he practiced for four years, until December 1874.

On October 6, 1873, in Monroe County, Iowa, Judge Alfred M. Post was married to
Ella Munsell,
the daughter of E
dward and Cynthia Devereaux Munsell.

In 1874,
President Grant
appointed him consul to the Cape Verde Islands. He spent two and a half years in the consular service, but not all of that time in the Islands. Upon returning to the States at the end of his appointment, he located at
Columbus, Nebraska,
arriving here on Christmas Day, 1876.

In Columbus, he took up practice immediately as a member of the pioneer law firm of
Whitmoyer, Gerrard and Post.
The first winter in Columbus, Judge Post and his family occupied a little home a half block south of the extreme west end of Thirteenth Street, later the home of the
Dan Condon
family. Columbus was then a village of only a few hundred inhabitants, and there was not a building of any description between his home and his office, which was on Platte Street near Twelfth Street, later the site of the Speice-Bower Wholesale House. In the summer of 1877, Mr. Post erected a residence at 3104 Fourteenth Street, which was the Post family home for more than forty-six years.

The landmarks seen in the distance from the Post home in 1876 included a grove of trees near the
Bucher Beer Garden
on Eleventh Street, the
Clother House
on the corner of Twelfth and Platte Streets, and the old
Hammond House
(now the Meridian Hotel.)

Alfred M. Post was a good lawyer. He was endowed with qualities indispensable to the lawyer - a keen, rapid, logical mind, plus the business sense and a ready capacity for hard work. He brought to the starting point of his legal career certain rare gifts: eloquence of language and strong personality; an excellence of presence; and an earnest, dignified manner; marked strength of character; a thorough grasp of the law, and the ability to accurately apply its principles.

His ability brought him into public notice. In 1883, he was appointed judge of the Fourth District. He was elected to that position in 1883 and in 1887 and he served upon the bench of the district for eight years, until the fall of 1891, when he was elected a judge of the Supreme Court of Nebraska, a position he held until January, 1898.

In 1898, he was appointed by
President McKinley
as one of the United States District Attorneys for Alaska. After spending a year in that wilderness country, he resigned and returned to Columbus to again take up the practice of law.

In 1911, he was called upon to take the chairmanship of the special commission created by legislative act to revise and codify the statues of Nebraska.

In the winter of 1919, Judge Post was appointed to the District Bench by
Governor McKelvie
, following the resignation of
Judge George A. Thomas
. He was elected to succeed himself in the fall of 1920, and was serving the third year of his four-year term when he died, on August 26, 1923.

The decisions of Judge Post on the bench indicated strong mentality, careful analysis and unbiased judgment, making him one of the most capable jurists who have ever graced the high court.

Judge and Mrs. Post had eight children:

Nelly, Mrs. Howard A. Clark
Georgia S
., who was married to
Dr. C.R.G. Forrester,
of Chicago;

Martha, Mrs. Hoffman; Alberta,
deceased

Alfreda,
who lived in Columbus in the Post home

William Edward
, "Ned" married to
Lillian Adams
, lived in Los Angeles

Dorothy, Mrs. Gustavus Becher
Alfred M. Jr
, was a major in the Army during World War II

Ella Post,
deceased. Ned and Ella Post were twins.

Martha Post Hoffman's
daughter,
Ann Post Hoffman,
was a graduate from Kramer High School in Columbus, and the University of Nebraska in Lincoln, where she was affiliated with the Kappa Kappa Gamma Sorority. She later married and became
Mrs. J.B. Nichols
, of Kansas City, Missouri.